Organic traffic is one of the most important factors that make an online business successful. An impressive website is essential for your business but how do you manage to get numerous visitors to your website? Only when people can see and get to know about your website, will they choose to visit it. Ranking a website in the top 10 search engine results is not an easy task!
Search Engine Optimization (SEO) is the ultimate solution for anyone and everyone who wants their website to be on the top of search results. There are various SEO ranking factors involved in providing the best search results to the audience browsing on the internet.
If you wish to see your website on top of the ranking results, you must be aware of these 5 important SEO ranking factors.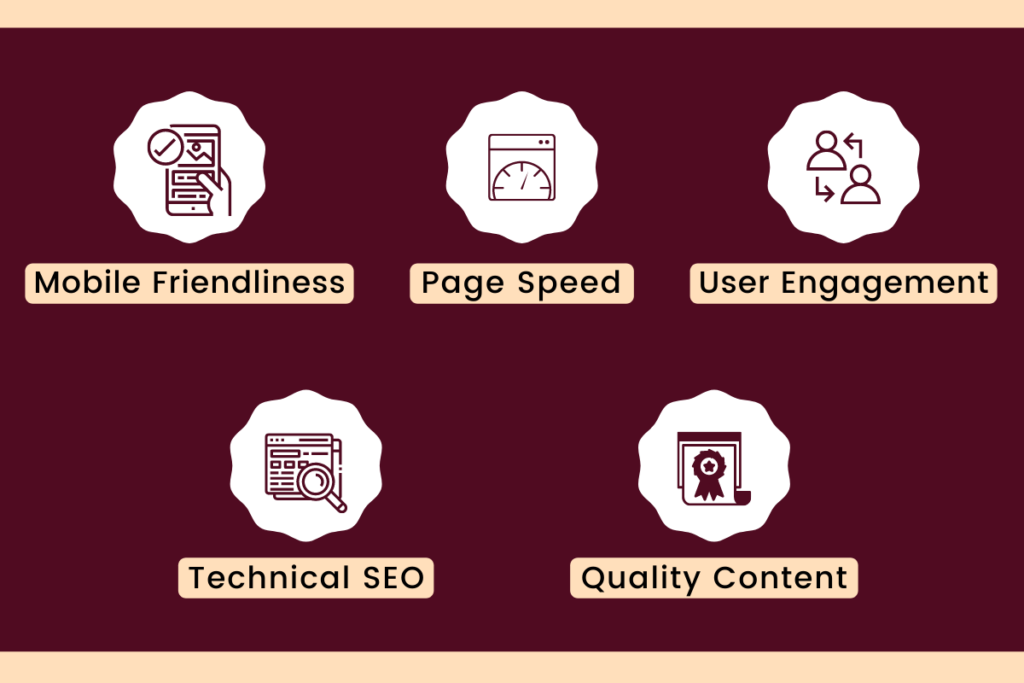 Factor #1 Mobile-friendly Approach
Technological developments have resulted in commendable growth in the mobile market. You may have a healthcare, educational or e-commerce business. No matter whatever product or services you sell, a mobile-friendly site with flawless functionality is essential. Most of the users prefer scrolling through mobile devices as it is easy and more convenient. More than 50% of the website traffic takes place on mobile devices. If you are not sure about your mobile site performance, you can take a mobile-friendly test from Google. If you wish to create a mobile-friendly website, here are some points you should consider:
Mobile responsiveness
Attractive User Interface
Simple yet appealing designs, colors and font
Click here to make your website mobile-friendly and highly engaging
Factor #2 Page Speed of the website
Slow-loading websites can be a major setback for your business. 53% of the visitors will abandon a site if it doesn't load in 3 seconds. Page speed is one of the most important factors for your mobile site ranking. You can use tools like a page speed tracker to examine the page speed of your website. If it takes long enough to load, you know there is a big problem. Here are some tips to increase the page speed of your website.
Improving responsiveness to servers
Reducing Redirects
Optimizing Images, CSS, HTML and JavaScript
Note: You can make the most of Largest Contentful Paint (LCP) , one of the major core web vital metrics to measure the loading speed of the page for your website.
Factor #3 User Engagement
 If you think search engines are all only about site optimization, you are mistaken. User engagement is a crucial factor that promotes the search rankings with the search's correct results. Various ways that include Artificial Intelligence are used to create user engagement with sites. The most important factors that determine user engagement with your site are:
Dwell Time
Bounce Rate

Click-through Rate
Content Recirculation
 is one of the key metrics that determine the percentage of users who visit from one page on your site to another. Important measures like focusing on internal linking, displaying relevant content to the users and making the most of interactive widgets help improve user engagement.
On-site optimization is a crucial part included in the entire structuring of the website. It is a vast topic and needs to be taken care of from time to time as it consists of the basic structuring of all the pages and several factors. Here are some points to keep the technical SEO ranking factor on point for everyone:
Keyword research and placement wherever required
Focus on meta description and meta tags with the keywords
Utilizing Schema markup to help Google understand the type of content creation done
Use alt tags of images with keywords and internal links for better hierarchy.
Factor #5 Quality Content
Let us talk about the most crucial ranking factor for your website- Content! All the optimization on your website won't make enough impact if you do not produce quality content. Whenever a user types any keyword, the search engine looks for relevant content that can be shown to the users. If you are not creating relevant content that can answer the queries of the users, your website might not perform well in the search results. Here are some tips to optimize content for better ranking:
Create Niche Content considering the user intent
Identify and use target keywords
Use Latent Semantic Index (LSI) keywords
Maintain consistency while posting content
Now that you are aware of all the top SEO ranking factors for your site, it is time to work on them. You can start with creating a monthly calendar for posting quality content to attract users. Attractive images, useful backlinks and important keywords can help you as a major ranking factor for the content. Readwhere can take care of your site's mobile-friendliness, page speed, interactivity and more.
What is the most important SEO factor for a website according to you? Let us know in the comments section.